The Cannes opener: Leos Carax, Annette
This opening film of the 74th edition of the Cannes festival is maybe not the grand opening that one might expect after a two-year interval since the last edition in 2019, where Bong Joon-ho received the Golden Palm for Parasite. It is a film that is maybe best watched in the context of the preceding film in the official selection, Mark Cousins' The Story Of Film: A New Generation, which follows his 2011 The Story of Film: An Odyssey and engages with new trends in cinema, from innovations to the genre of musical comedy and horror, to a changes in acting styles and the relationship between the film and the world it represents or creates. In this perceptive reading of the border between stage and reality, Cousins points at Carax's Holy Motors, but also a range of other films, including Joshua Oppenheimer's The Act of Killing (2012) about the Indonesian mass killings in 1965-66, and its mirror piece, The Look of Silence (2014), where a victim confronts a perpetrator, as well as Ilya Khrzhanovsky's Dau, both recreating a reality that we know is staged, but that looks more authentic and where people finally become more like themselves.
It is precisely from this angle that a look at Annette may be most productive, rather than the plot summary of "man falls in love with girl," they marry and have a baby, the relationship falls apart and he turns into a murderer. The man is Henry McHenry, a comedian, and he is played by Adam Driver; and the girl is Ann Defrasnoux, an opera soprano, played by Marion Cotillard. One line of interpretation is the contrast between high and low culture, between an opera house and a variety stage, between a limo and a motorbike – and a marriage that represents the union of art forms and leads to the destruction of art altogether.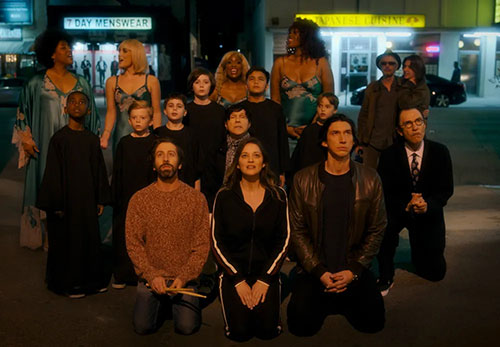 The film begins with an ironic instruction for the spectator: do not sing, laugh, yawn, boo or fart, and of course, do not breathe. Maybe a reference to our face masks, but more likely a way of telling us that this film is out of time, that we should hold our breath to enter a world that knows no time. The characters only seem to change, yet they don't: they are performances of a role that is already written. At the film's start we see the sound graphics in red across the screen and over the images of LA, and we hear that sound – a bit in the style of Norman McLaren's Synchromy, before we get into the studio, where director Carax, the musicians and scriptwriters Sparks (Ron and Russell Mael), and the actors Cotillard, Driver and Simon Helberg, as well as other secondary characters, rehearse and record a song. They leave the studio, continuing the song, and go out onto the street to ride away on a motorbike or in a limo, and to take up their assigned roles, that is the comedian and opera singer. We transition from a studio that makes sound that is then transported into the outside world, only to withdraw instantly again into a world of fiction, of the stage, where other (stage) characters are created by those we have not even got to know: Henry's Ape of God, and Ann's opera characters, who are always doomed to die. Henry's and Ann's romance is presented in a few scenes and a fast-forward, summaries by the media's showbusiness section, and including later a scene of six women voicing their allegations about McHenry's abuse in a #MeToo context, questioning the control of social media over individual lives. Within a very short space of filmic time Henry and Ann have met, fallen in love, married and had a baby, Annette, brought to the world by a chorus of singing midwives. And baby Annette is a puppet, so another layer of performance is added to this love story of performers performing life and love.
Baby Annette is a marionette made by Estelle Charlier and Romauld Collinet from the company La Pendue in Grenoble. Made from soft wood, she is not cuddly, but rather an object of play for the singer and the comedian, who both adore her. With huge ears, red hair, and the protruding joints, she is not even lovable; but she has the fine voice of her mother and this voice is capable of raising her entire into the air. Henry makes money from her performance with the help of Mr Conductor (Helberg), Anne's ex and accompanist, and now the orchestra's chief conductor. As Henry goes down the criminal spiral, Annette is adored – a replacement of Ann, but also a controllable "thing", a doll after all. Only in the final scene with the convicted Henry does she swap, on screen, with a real girl and acquires a speaking voice, now taking control of her own life.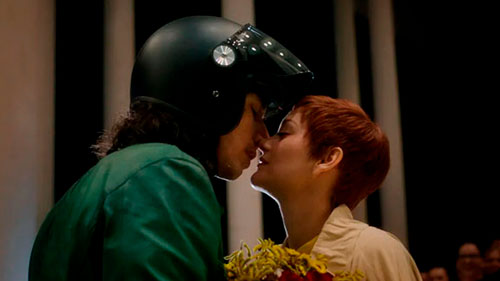 Another theme also raised by Cousins as a trend in recent cinema is the confrontation between high and low, and by extension between success and failure. It is what Cousins calls the inversion of the world, where the poor and socially marginalised take control, as we see in Parasite, but also Hirokazu Kore-eda's Shoplifters (2018). While Anne's fame grows, Henry fails with his self-reflexive humour. The balance in the relationship is tipped by increasing/decreasing popularity, and Henry takes to drink before eventually throwing his wife overboard during a stormy night at sea. But like a Rusalka from Slavic folklore, she returns to take revenge. She lapses into another role, of which the end is already written: the Rusalka kills (or brings down) all the men for the one who has wrecked her life.
The intertwining of reality and performance is what makes this film an intelligent and extraordinary piece of cinema, taking the viewer into a created and creative world. The viewers hold their breath and wait – for a musical where songs tell more than words; or for a romance; or for an investigation of human life performed on stage and for the camera.
In this reading, the film reveals a number of innovative steps towards a new cinematic language – stripping the characters of control, depriving them of depth and turning them into cardboard figures (even if this does not reflect favourably on the acting performance) that signal rather than experience stages in a predictable plot that they do not steer, but where they are mere signs. Anything else would be an illusion.
And what else than signs are we in the brave new world controlled by algorithms?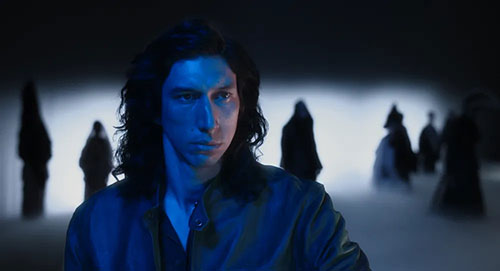 Crédit photographique : © CG Cinéma International / © RISK