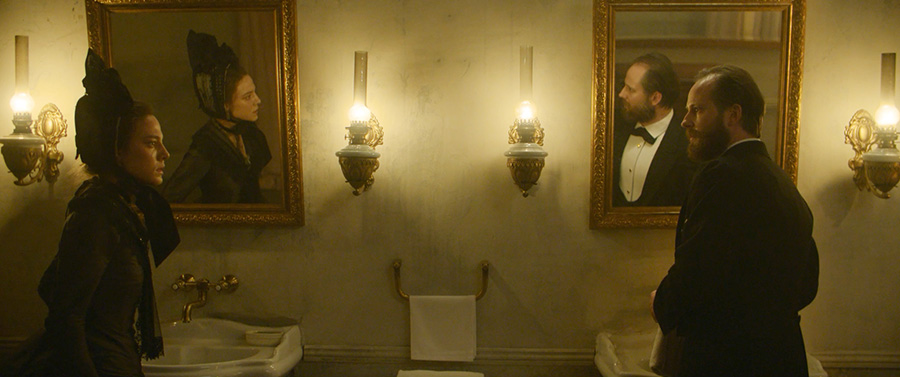 This year's jubilee edition of the Cannes Film Festival started off with… a spectacle of a different kind than expected: the crash of the booking and accreditation system on the busy pre-festival Monday. But then, it got fixed, we got badges and could attend the opening night on Tuesday, with a screening of Michel Hazanavicius' beautiful, intriguing and funny zombie comedy Coupez! (Final Cut). One could hardly wish for a better festival opener: a well-conceived spoof both on cost-saving in the film industry and on live-streaming services. The short zombie film the audience gets to see at the film's start is not only revisited through a series of flashback leading up to the actual shoot and explaining how it was conceived, but that final cut is also shown from behind the scene, giving us an insight into what the "final cut" means for a film shot as live-stream. Ultimately, Coupez! tells us that nothing we see on the screen should be taken at face-value, something we may like to bear in mind for any images we see, on the silver and the blue screens, in a visual-media-governed world.
Day 1. The competition showed Kirill Serebrennikov's new film Tchaikovsky's Wife, and for the first time the director could attend a Cannes competition screening of his film in person, after the previous two films had been presented by his crew (Leto/Summer in 2018 and Petrov's Flu in 2021). His suspended sentence for alleged embezzlement had been lifted at the end of March, and Serebrennikov is now working in Germany. It is the only film by a Russian director in the festival's official selection, and its inclusion had been heavily criticised by Ukrainian culture organisations calling for a complete boycott of all Russian culture. Whilst there were no visible protests, at the end of the official screening Serebrennikov repeated the call for "No to War" ("Net voine") and stressed the importance of culture and human relations to help establish peace. Serebrennikov's films surprised viewers and critics: it is much less impressive than his flamboyant earlier films at first sight, but as often with Serebrennikov's films, they have a depth that unravels slowly. Set at the end of the 19th century in Moscow, St Petersburg and a country estate, the cities (and rural spaces) are almost indistinguishable in the blurred and murky views created by the camera of Vladislav Opelyants, who just last year received the CST Award for Technical Artistry for Petrov's Flu in Cannes. If the spaces are unrecognisable, the temporal settings are clearly indicated here (in contrast with a blurred timeline in Petrov's Flu). The film begins with Tchaikovsky's funeral in 1893 and the appearance at this event of his estranged wife, Antonina Miliukova, the titular character played by a stunning Alena Mikhailova, who has hitherto been better known for television work than for her roles in features. Her performance of a young and determined woman infatuated with a man who "does not care for women", to a devout wife and stern believer, to an obsessed woman seemingly incapable of any feelings is truly stunning and gives the film a depth that is often achieved by other means than acting in Serebrennikov's work. The director plays out the idea of unreciprocated love rather than of Tchaikovsky's homosexuality, and the focus is on the destruction and devastation such an obsession with it, or rather its abstract concept, brings with it. Tchaikovsky's Wife is not a film that will please audiences easily with its realistic portrayal of the eponymous wife as a character no longer able to engage with the real world and see things for what there are (numerous sequences make the viewer see the world her way, starting with Tchaikovsky's corpse rising to insult her at the funeral scene. The sets and the camerawork render her perception as part of the "real" world as presented in the film.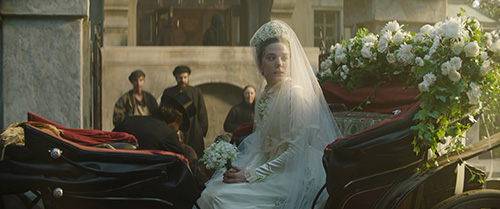 The Belgian husband-and-wife team Felix van Groeningen and Charlotte Vandermeersch presented in competition heir film The Eight Mountains, a splendid story of a friendship between mountain boy Bruno and town child Pietro, which began in their childhood and lasted a lifetime. The filmmakers were clearly drawn to the beautiful idea of the knowledge of the world derived from eight mountains, or one central point, which they draw from Paolo Cognetti novel, awarded with the Prix Médicis étranger in 2017 that lies at the base of the movie. They use this concept of the wanderer and the one who remains behind to juxtapose a more conservative with a more progressive way of life. The film plays out the story of Bruno and Pietro over some forty years, with some indications of time given by a narrative voiceover that frames episodes of the story. We see Pietro as a teenager being estranged from his father for not wanting to follow his footsteps, while Bruno almost takes his role as substitute son for Pietro's father in the last years of the latter's life. The visually stunning spaces of the mountainous regions of the Aosta Valley where the film was shot form a refrain with Pietro's trip to the Himalayas: up in the mountains, the power of nature reminds us again and again of eternity. At the length of 150 minutes, the film is maybe a little too slow, but it is worth to consider with patience the existential question posed in this work.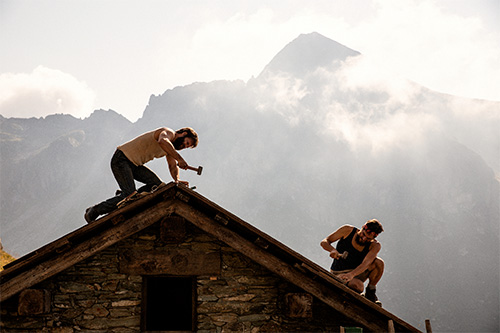 Day 2 saw the premier of James Gray's Armageddon Time, a film based on Gray's own upbringing in Queens, New York; it was scripted by the director and is set in 1980. At the centre of the film is 11-year-old Paul Graff (Michael Banks Repeta), a boy from a Jewish-American family, whose maternal grandparents dote on him. Especially grandpa, played exquisitely by Anthony Hopkins, is at times the only person to find a way of talking to Paul, who is withdrawn and unfocused, and whose performance at the new school is not going well. Choices are made between private and public education, between schools that admit black children, like Johnny, whom Paul befriends, finding in him another "outsider" who is mobbed and punished by the class teacher. Paul's parents, Esther (Anne Hathaway) and plumber Irving (Jeremy Strong), are working hard to give the best future to their children: therefore, Paul should make something of his life – but his artistic talent distracts him all the time and he underperforms at school. The same is true for Johnny, a black boy in his class; and together they are up to much mischief – not because the boy is black, but because of the racism that runs through society. Gray depicts this through Pauls' eyes, offering a juvenile's perspective on American society just before Reagan's presidency. He shows how different problems (for example, the death of a grandparent) mean different things for Johnny and for Paul. Like Johnny, Paul wants to break free from social constraints. But Paul will not become a revolutionary: nudged by his grandfather (and later by his memory) and his father, he will learn to move on and express his dissent silently, having seen the price of open rebellion. This predicament of quiet acceptance is significant for the present world also.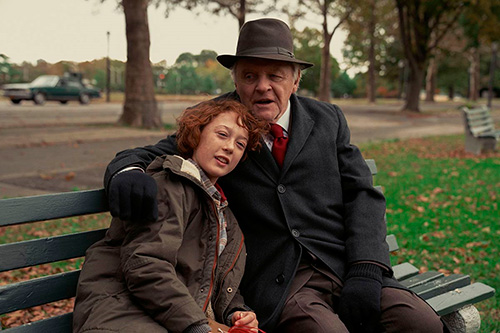 At 84, Jerzy Skolimowski is hardly a newcomer to cinema: after a pause of seven years Eo makes for refreshingly experimental viewing. There have been animal protagonists in recent cinema (think of the cow in Andrea Arnold's film that screened in Cannes last year) and here we have a donkey (played by six different donkeys at various stages in the film), who is being "liberated" from the circus where he performs with Kasandra, who also looked after him. At first, Eo is taken to an animal shelter, but the animal runs away on several occasions. The donkey shows us its view of the world and gets the spectator emotionally involved in this almost word-less road movie. Eo explores the world, sees its ups and downs. At the same time, it tells the journey of a creature who has suddenly been given freedom and does not know what to do with it. In such a context, Lara's phrase in Pasternak's Doctor Zhivago comes to mind, of the revolution that ripped away the roof and left man standing there under the sky – and without shelter. Freedom has different meanings…
These first films of the festival, set in different times and spaces, told from perspectives of animals, children, and women, are concerned with a very contemporary topic: that of man and freedom, or the idea of it. And that freedom is not as easy and straightforward as we might like to think: no political or social system can guarantee it, and we have to know what to do with it. "Freedom" is, and will, always be a work in progress, where everybody needs to play a part: and be it only that of Paul Graff, who remains detached from the privileged kids in his the new "elite" school.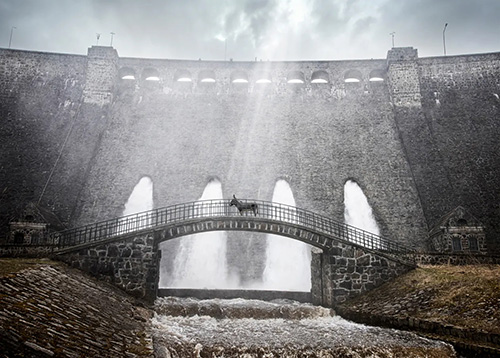 Crédit photographique : Copyright Wild Bunch Distribution / Copyright HYPE FILM / Copyright Pyramide Distribution / Copyright 2022 Focus Features, LLC. / © Aneta Gebska i Filip Gebski