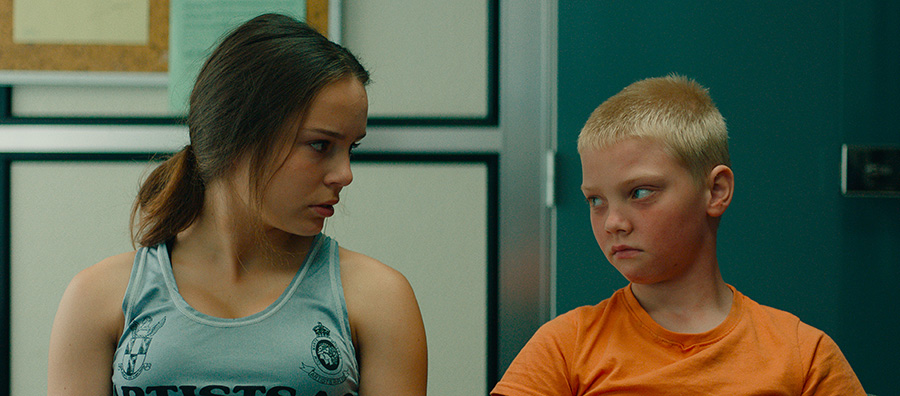 UCR Prize: Les Pires by Lise Akoka and Romane Gueret
Un Certain Regard at Cannes presented, once again, a very strong programme. The jury, chaired by the Italian actress and director Valeria Golino, awarded the main prize to the French film Les Pires (The Worst Ones) by Lise Akoka and Romane Gueret.
The film begins with a scene where children and teenagers take part in a casting session for a future film. Indeed, "the worst ones", the most rebellious and difficult children from the "Cité Picasso" housing estate in Boulogne-sur-Mer, where the film was shot, are chosen for a project about which we know little to nothing. As the film unfolds, the teenagers who have been selected for the project are seen in their domestic environment and their community, where many are jealous that they, the "worst ones" have been chosen. The youngsters are seen prepping for and acting in the film project, itself the debut of a Belgian director, concerned with some unspecific social issues in the banlieue. The film thus traces the making of a documentary-style film, whilst highlighting critically the complexity of documentary-style filmmaking, particularly when working with children, who are aggressive, hyper-active, and leaning towards violent behaviour bordering on criminal action in everyday life. Akoka and Gueret have both worked as casting directors, Akoka also as child actor coach, while Gueret brings her experience as filmmaker into Les Pires. They appear to be challenging the use of non-professional actors, in particular children, to meet a rising demand for "authenticity" and documentary-style approaches.
Les Pires tells the story of four youngsters recruited for a film shoot of the 50-something old Gabriel (Johan Heldenbergh), who shares his own life experience to win over the kids – a dubious practice to start with. There is thus a double meta-cinematic comment, of the fictional director who is making his debut film; and the use of non-professional child actors for film projects. It is far from evident that the (fictional) debutant knows exactly what he wants. Drawing on the experience and improvisation of his child actors, Gabriel patches holes in his script and covers up his lack of directing experience (a debut at 50). Akora and Gueret here remain critical of the use of non-professional child actors to compensate for a filmmaker's lack of experience. Yet the layering of their comments on the use of child actors complicates matters further: children do not purge their life histories through the acting job. Instead, the film exposes the use of non-professional child actors critically, highlighting the impact their acting has on their everyday lives.
Thus, the film investigates the role that the film-in-the-making has for these kids, what the film does with them and their lives. The children are envied by their peers and the neighbours. They have to learn lines and change into roles. But ultimately, asks the film, who takes care of what this experience does to them psychologically? Can it be expected that playing their own life helps them resolve their problems? This is not necessarily the central and only question the film poses, but it certainly a central issue for the spectator.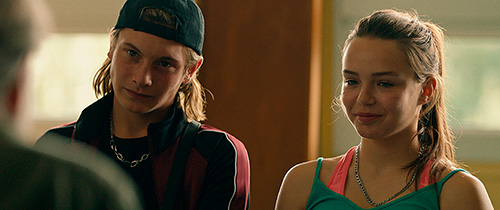 The film starts with interviews of four kids at a casting session. Maylis (Melina Vanderplancke) seems to be involved not of her own initiative, but because of her siblings: is she hiding behind a façade? Ryan (Timeo Mahaut) is provoked quickly and has issues with anger-management. He lives with his sister Melodie (Angelique Gernez), since his mother cannot take care of him; but Ryan does not want to hurt his mum and finds it hard to tell her and the social workers. The 17-year-old Jessy (Loic Pech) has just spent several months in prison for a hit-and-run offense. And Lily (Mallory Wanecque) has recently lost her brother to cancer. All the children and teenagers live in the housing estate, where peers and neighbours are jealous that some of their friends now have a "role" to play. Yet these roles do not take them out of their everyday lives into a better world; instead, they throw them even deeper into the gritty realism of what could be their future: Ryan has to act "naturally" aggressive, the opposite of what he is trying to do in life; Lily and Jessy enact a love scene; and Maylis plays a pregnant teenager. The gaze of the camera is ambiguous in these scenes: it highlights the enactment and never plays out a "male" gaze. Instead, the gaze of the two female directors remains in control and reveals the performative aspect of the children's acting experience. The child actors get a sense of a different life that is not better, but a life that is like theirs, only that they are in control. What they gain is a sense of their own ability (at acting, and that they do brilliantly), and with it a sense of control. Even if the roles offer no escape and no therapy, they engage them in a job.
Crédit Image : Copyright Eric Dumont / Les films VELVET et Copyright Pyramide Distribution