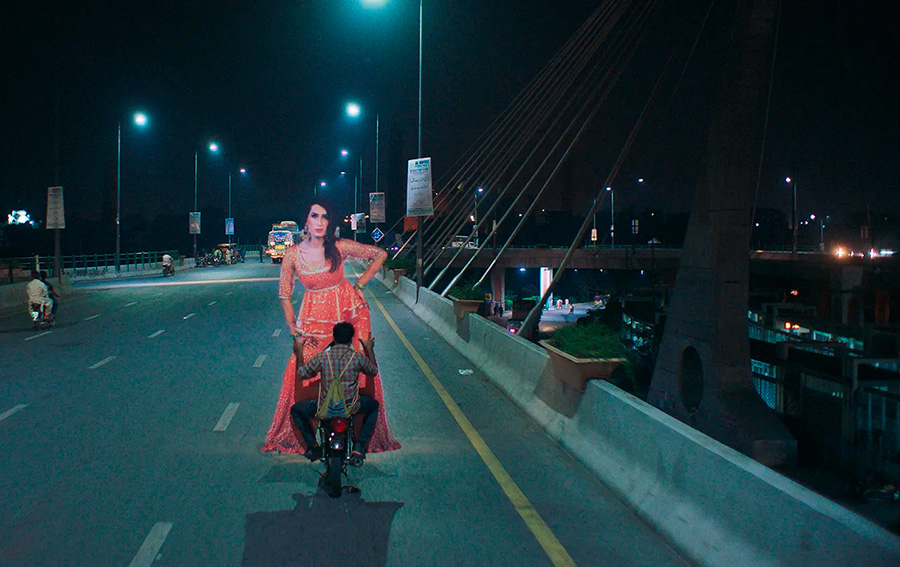 UCR Jury Prize: Saim Sadiq, Joyland (Pakistan)
The Jury Prize of Un Certain Regard went to Joyland, directed by Saim Sadiq from Pakistan, making his debut feature the first Pakistani film in official selection at Cannes. This coproduction, largely financed through the US, where Sadiq is completing his MFA at Columbia University, addresses family and gender stereotypes in Pakistani society, whilst also incorporating entertaining elements into the plot.
The narrative is centred around a traditional Pakistani family: the elderly father, dependent on his family for care, is sometimes visited by the widowed neighbour Mrs Fayyaz; when on one occasion she has to make a choice of abandoning the father or staying overnight, she is punished by her family for having disgraced them by doing the latter. The absurdity of patriarchal rule is exposed in the film, but it can also take a funny side. In the family, there are two sons: the older, Saleem, (Sohail Sameer) and his wife Nucchi (played by the model Sarwat Gilani), who have three children and are about to have a fourth: all girls. Nucchi will have to bear children until she has a boy to secure the family's continuation; meanwhile, women may run the household and everyday life, but they stay firmly behind the façade of closed doors. The younger brother, Haider (Ali Junejo), is unemployed, and therefore dependent on his father. He is a "husband at home", caring for the father and playing with his nieces, while his beautician wife Mumtaz (Rasti Farooq) earns the living. She is the breadwinner and, thanks to her, the family might be able to afford some mod-cons, like a refrigerator or a ventilator. Haider is clearly not a "man" by society's standard, until he gets a job and fathers a son. So, he fulfils this role: he finds a job – as a background dancer in an erotic show at a variety theatre (while telling his family that he works as a theatre manager). But with him having a job, someone needs to stay at home and help with the sickly father – and that is Mumtaz.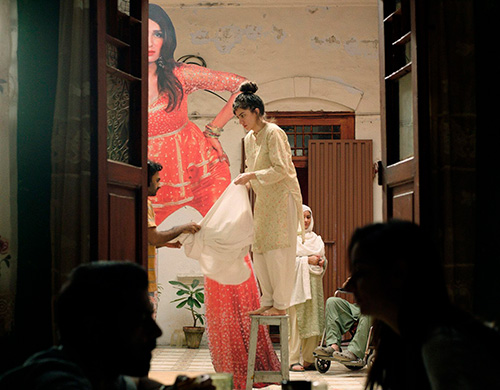 Gender roles receive a parodic treatment: the neighbour who stays overnight to care for the old father is ostracized; the woman who has a well-paid job must relinquish it to look after the family, whilst the men are "impotent:" one is unable to father a boy and continue the family line, the other unable to find a job.
Yet it is Haider with his "fake" job in the theatre, who eventually fathers a boy, but by then things have fallen apart in his relationship with Mumtaz, who commits suicide, not only destroying that family tree's future, but taking away happiness from Haider. It is he who breaks conventions and exposes the stifling social rules that are enforced, above all, by families rather than some external agent.
The subtle social critique takes more overt tones when the main performer of the variety show, Biba, outs herself as trans artist: the transgender actress Alina Khan plays this role in the film, having previously appeared in Sadiq's short film. Haider supports her: maybe one of the finest and funniest shots in the film is Haider transporting a giant cardboard stand-up poster of Biba through Lahore on his motorbike, and keeping it (under a veil) on the rooftop of his house, exposing the performer (and with it his work) to the entire neighbourhood. Haider tries to break away from stifling conventions, allowing his wife to work, supporting Biba in her fight for a place in the showbiz, but ultimately, he cannot make a change and does not go far enough. He realises this after losing what has, unknowingly, most precious to him: Mumtaz.
Sensitively, the director highlights the fact that women pay the price for male pride reinforcing stifling conventions, and for not going far enough in their rebellion against century-old customs. It is only in the carnivalesque setting of an amusement park, Joyland, that women can drop their social masks.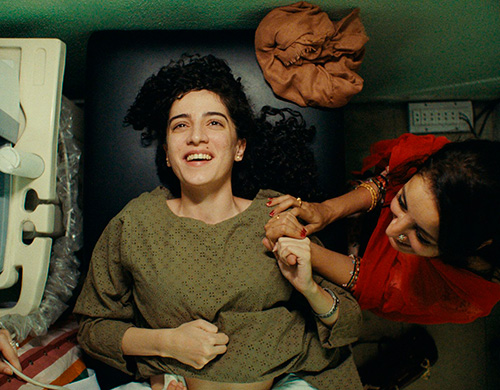 Crédit photographique : Copyright Condor Distribution